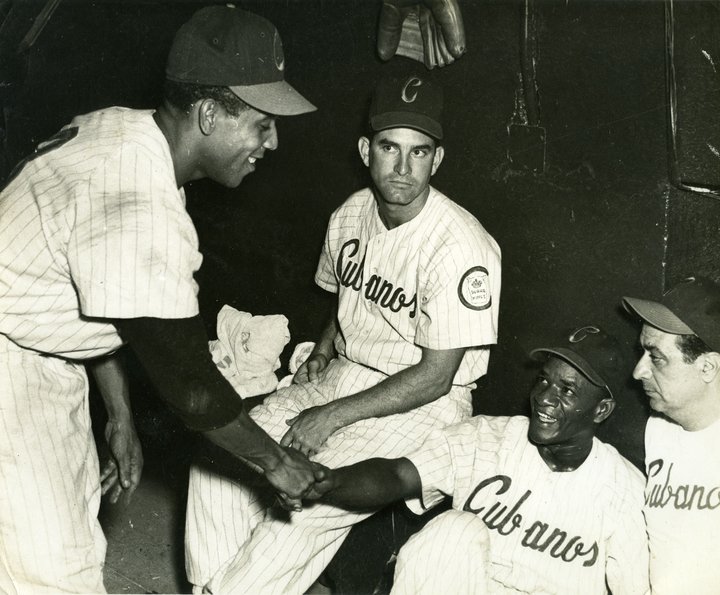 With the Major League Baseball (MLB) playoffs taking center stage in the sports world last night, I was reminded of my first recollections of the national pastime.  As a young child, my parents would take us to Parker Field on family night to watch the Triple A Richmond Virginians, a New York Yankees farm team, compete against one of their International League opponents.  To give you some idea how long ago this was, the International League was actually international.  Of the eight teams, three–Montreal Royals, Toronto Maple Leafs (or Leaves for the grammatically picky) and (pre-Castro) Havana Sugar Kings–were based outside the United States although "North American League" might have been a more accurate moniker.
As with any baseball stadium, one's first encounter upon passing through the ticket gates was a man or woman, behind what looked like a podium, shouting, "Get your program!  Right here!  You can't tell the players without a program!"  And back in 1958, 50 cents would buy all you needed to know about the players and coaches on the home and visiting teams.  Position.  Career performance, e.g. batting average for hitters and earned run average for pitchers.  Vital statistics such as height, weight.
Skip forward six decades and the importance of understanding baseball statistics is no longer art, it is a science called "sabermetrics."  The discipline, as defined in Wikipedia, is "the empirical analysis of baseball, especially baseball statistics that measure in-game activity."  (NOTE: "Saber" refers to the Society of American Baseball Research or SABR.)  Michael Lewis' book Money Ball: The Art of Winning an Unfair Game chronicles how Oakland A's general manager Billy Beane, relying largely on sabermetrics, turned his team of bargain basement players into a legitimate contender against opposing squads with payrolls several multiples higher.
Sabermetrics plays an equally important role as teams make mid-course corrections as MLB's July 1 trading deadline approaches.  For example, if during the first half of season, your team consistently leads games in the late innings but still loses, it is a signal for you to pick up a quality relief pitcher or two.  If batters, swinging for home runs, strike out with men on base, you focus on players with higher on-base percentages rather than power hitters, players whose skill is measured by a combination of dexterity AND personal strength.
While the answer may seem complicated, the question is simple, "Where are the gaps on my team?"  Or lacking the talent you need at every position, how do you compensate for these weaknesses.  In last night's National League wild card game, both managers faced that question.  Knowing he lacked the starting pitchers he needed, Milwaukee Brewers manager Craig Counsell assembled a parade of his trustworthy relievers to face the Washington Nationals. In contrast, Nats manager Dave Martinez had little faith in his second-to-worst bullpen during the regular season.  When it became clear starter Max Scherzer, former Cy Young award winner, did not have his best stuff, he went to another starter Stephen Strasberg for three no-run innings.
Dr. ESP, are you kidding us?  With everything happening in Washington you decided to talk sports.  We want to know what you think about Mike Pompeo traveling the globe to solicit foreign assistance in debunking the Mueller report.  Or the transformation of Rudy Giulliani from "America's Mayor" to his audition to replace the current "O! A Fool" at Renaissance Festivals.
Patience dear reader.  As Shakespeare tells us in Act 2, Scene 1 of The Tempest, "What's past is prologue."  Remember, I said the question is simple, not just in baseball, but in understanding the dilemma in which Donald Trump and his minions now find themselves.  In fact, the question is exactly the same.  "What are the gaps on my team?"  For this analysis, I will rely on "supermetrics," named for my newly created Society for the Unraveling of Political Rubbish (SUPR).  The study requires a benchmark, in this case the Nixon administration, which represents the ultimate bad season, when a president not only came in last, but did not make it to the final game.  To understand the difference between a winning and losing season, I will focus on the last three administrations.
Starting with Nixon, of the 42 individuals who held a cabinet level position during his six and a half years in office, all were white men.  And when it came to senior advisors such as chief of staff, chair of the council of economic advisors and legal council, you guessed it.  More white men.  There was no Condoleezza Rice at the State Department as in the George W. Bush or a Loretta Lynch at Justice or Hillary Clinton at State during the Obama years.  Which brings us to Donald J. Trump.  His current staffing of the White House and major cabinet positions more resembles Nixon's than either of his immediate predecessors.
In other words, "Make America Great Again" includes a return to governance by the good old boys club, or in this case, the Keystone Kops.  What's missing is a woman who might admonish Trump's inner circle to stop acting like frat boys and grow up.  One has to wonder whether the Trump/Zelensky call would have occurred if Trump had picked Nikki Haley to succeed Rex Tillerson at State and Joanne Young, co-chair of the Republican National Lawyers Association to replace Jeff Sessions at Justice.  Unfortunately, the trading deadline passed while the owner ignored the supermetrics.  And the current situation is what you get when the internal debate is solely a matter of "he said then he said then the other he said."
For what it's worth.
Dr. ESP