On October 3, 1950, a televised version of the popular radio game show Can You Top This? debuted on ABC.  The premise was simple.  A panel of three comedians vied to get each other to laugh at their jokes.  Despite the radio version's large audience, the video adaptation went off the air just eight months later.  Sadly, the latest iteration, broadcast live from 1600 Pennsylvania Avenue is in its fourth season.  And unlike its predecessors, Can You Top This? 2020 has no moderator and only one contestant Donald J. Trump, vying to outdo himself with inane comments and pure nonsense.
Fortunately, as was the case with The Apprentice, Trump's other venture into entertainment media, the show's ratings are now plummeting with the likelihood it will be pulled from the fall schedule.  (FACT: Between 2004 and 2007, The Apprentice viewership dropped form 20.7 million to 7.5 million.)  But it is not for lack of trying.  Who can forget last Friday's must see episode when Trump suggested brutally murdered George Floyd was smiling down from heaven and celebrating a jobs report which at best heralded a five percent comeback from record unemployment.  Hard to top that one.
But this morning, he gave it his best effort.  At 8:34 AM, Trump tweeted: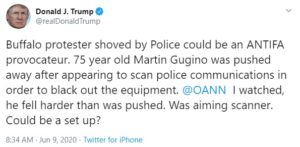 Never in the history of Can You Top This? did one bit contain so many punchlines.  Take your pick.  Martin Gugino is associated with ANTIFA.  A 75 year-old man is tech-savvy enough to operate a device which can intercept coded police messages and disrupt communications.  He intentionally inflicted life threatening injury to himself.
One feature of the original radio show was when listeners were invited to submit jokes for the panelists, changing the nature of the competition.  The on-air participants were rated on their ability to deliver content which was not their own.  Which makes you wonder, "Does Trump write his own material?"  In this morning's case, we know the answer.
The Gugino "joke" first appeared on the web site The Last Refuge, whose header includes the tag line, "Rag Tag Bunch of Conservative Misfits."  They should have further qualified their status to include the word "confused".  As evidence of Gugino's ANTIFA credentials, the writer who only identified himself as "sundance" reported:
On Friday Buffalo Mayor Byron Brown admitted Gugino was a professional 'agitator' who tried to work up the crowd and had been asked to leave the area 'numerous' times.
Close, but no cigar.  As reported by The Hill later that day:
Mayor Byron Brown (D) said on Friday that he was told a protester who was tackled and arrested by state police earlier in the week was a "major instigator" and an "agitator."

Brown said state police officers were involved in the arrest of the protester, Myles Carter, last Monday and that the city does not have the ability to take action against them.
Although the conspiracy theory involving Gugano was now debunked, it did not stop Trump's new media outlet of choice One America News Network  (OANN) from spreading the connivance on-air Monday night.  They repeated the claim Gugano had been identified as an agitator without attributing the remark to Mayor Brown or any other source.  One would think OANN would want its viewers to know the president* of the United* States had picked up on their reporting, but the story has since been scrubbed from OANN's web site.
Perhaps the network had second thoughts after several Twitter accounts noted the report had been filed by OANN correspondent Kristian Rouz.  Rouz joined OANN in August 2017 as a political reporter.  Despite his new affiliation, Rouz remains on the payroll of Sputnik, which as disclosed by The Daily Beast, is "a Kremlin-owned news wire that played a role in Russia's 2016 election-interference operation, according to an assessment by the U.S. intelligence community."
As they say in comedy, timing is everything.  Therefore, it should come as no surprise Rouz came to America in the spring of 2015, just prior to Trump's announcement he was running for president.  His obtained a visa on the premise he was pursuing a career in music and did, in fact, join an indie rock band named White Tar.  In an interview with The Daily Beast  national security correspondent Kevin Poulsen, Rouz' bandmate, who goes by the stage name Jov Paradice, recalls what can only be described as Rouz' dual personality.
When Trump was getting elected, he went into full sports coat mode. He had an indie style before—the whole blurred-line-of-sexuality thing—then he was wearing red ties and a suit. I said, "I'm not getting on the stage with Trump."
Imagine, a Russian national, showing up in the United States at the start of the 2016 presidential election with an affinity for Donald Trump who joins a right-wing cable news outlet while still being paid by a Russian news organization and promoting conspiracy theories which Trump then shares via Twitter.  Can you top that?
For what it's worth.
Dr. ESP