Recognize the name Scott Thompson?  Probably not.  Maybe you know him by his stage name, "Carrot Top."  For the past 13 years, with the exception of an occasional tour, Thompson has been the comedian-in-residence at the Luxor Hotel in Las Vegas.  His schtick consists largely of dated celebrity jokes during which he exaggerates his targets' stereotypical flaws with the help of trunks full of props.  For example, a crowd favorite involves his pacing a darkened stage with a flashlight while U2's "I Still Haven't Found What I'm Looking For" plays in the background.
Prop comedy has a long and storied station in show business history.  Consider the following.  Harpo Marx' horn.  The Harlem Globetrotters' bucket of confetti.  Steve Martin's arrow through the head and bunny ears.  One can argue ventriloquists from Edgar Bergen to Paul Winchell to Jeff Dunham are a unique form of prop comedy.  Without Mortimer Snerd, Jerry Mahoney or Walter, respectively, their jokes would more likely be greeted with silence rather than laughter.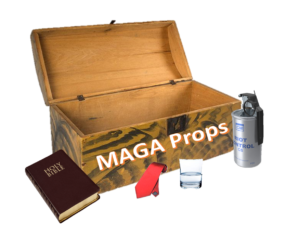 In case you have not noticed, these icons of prop humor have a new rival who, since June 1, has expanded his routine by adding a a number of new accessories to his arsenal of visual aids.  Welcome to the comedy stylings of the comic-in-residence who performs nightly in the Lincoln Room at 1600 Pennsylvania Avenue, Donald J. Trump.  Always seeking to be in the public eye, Americans had the unique opportunity to watch him first test new material in a smaller venue before the launch of the official tour.  In his case, Trump chose an outdoor setting–Lafayette Park.  Accompanied by an entourage of police, national guard and unidentifiable federal agents, he entertained the crowd with the latest gadgets in his trunk of tricks.  First, a tear-gas canister.  Then, an upside-down Bible.  What a show!  People have been talking about it for weeks.  You can't beat that kind of publicity.
Next it was off to West Point where Trump demonstrated there was no end to his implements of distraction.  Who can forget the water glass, the ramp or his leather-soled shoes.  But that event was just one more preliminary run-through for the main event,  the first stop on his comeback tour, Tulsa, Oklahoma.  And that is where "Cotton Candy Top" exhibited true creative genius, making connections between props which previously had served a singular purpose.  His trademark red silk tie was now the rescued victim of the two-handed glass of water caper.  The audience became "brave warriors," replacing his federalized posse when it came to facing off against peaceful protesters.  And slick ramps magically transformed into ice skating rinks.  Forget, he had just reminded the audience he needed to wet his lips because the hot sun was "pouring down" on him as he saluted newly commissioned army officers.  "A Zamboni!  A Zamboni!  My kingdom for a Zamboni!"
Despite the promise of an overflow crowd, Trump's press puppet Kayleigh McEnany claimed her boss, the eternal optimist, saw the arena as one-third full, not two-thirds empty.  It is not uncommon to cancel future tour dates when it becomes clear playing to unfilled, cavernous arenas just is not worth the embarrassment.  But do not expect any such move by the Trump campaign.  Trump is more likely to follow the advice of fellow comic Gary Mule Deer.  "It's great to be in a business where if you come back each year for a little less money, you can work for the rest of your life."  Except in Trump's case, just substitute the word "audience" for "money."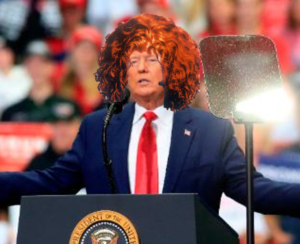 Recognizing this White House sh** show may end on January 20, 2021, Trump recently acknowledged he is already thinking about his next gig.  Considering his new-found affinity for prop humor, one possibility would be as guest headliner in the Luxor's Atrium Theater when Thompson is on the road or taking a break.  Such an engagement would be ironic considering the act in residence across the walkway from Carrot Top's venue–The Blue Man Group.
For what it's worth.
Dr. ESP