The title of today's blog is the Hebrew translation of the Latin phrase "E Pluribus Unum" or in English, "Out of many, one."  The Latin version is prominently displayed on the Great Seal of the United States and most U.S. currency.  Reference to "many" has always been viewed as a descriptor of the diverse American population.  Diverse in terms of nation of origin, race, religion, gender and ideology.  However, this past Sunday, we witnessed a different, and perhaps, more utilitarian value of this adage.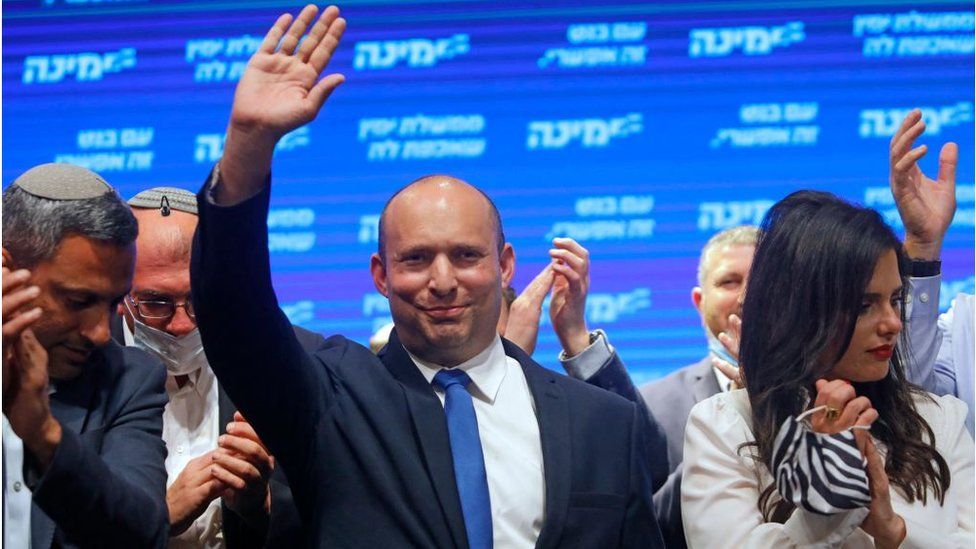 By a vote of 60-59, the Israeli Knesset (parliament) sanctioned a new governing coalition, headed by prime minister Naftali Bennett, consisting of members from eight political parties.  מתוך רבים, אחד A New York Times headline describes the alliance as "A Fragile Israeli Coalition, With Some Underlying Glue."  Fragile because its membership spans the political spectrum ranging from Bennett, Israel's first orthodox Jewish prime minister and leader of the ultranationalist Yamina party, to Mansour Abbas, the first Arab-Israeli citizen to serve as a deputy minister.  The glue?  A desire to deny former prime minister Benjamin Netanyahu another four years in office after what coalition members viewed as a 12-year toxic environment which divided the country.
Some American analysts such as Richard Haass, author and president of the Council on Foreign Relations, express pessimism about the coalition's future.  Haass believes the new government will have a difficult time reconciling intra-coalition differences when faced with contentious issues such as expansion of Jewish settlements on the West Bank.  In contrast, Susan Page, Washington bureau chief for USA Today, has a more optimistic outlook.  Page hopes the coalition, in order hold together, will be forced to find more centrist common ground, promoting compromise over confrontation.
I was originally going to title this entry, "David Versus Goliath: The Sequel," with Israeli as the sling-shot toting future king and America as his adversary.  But in this version, David does not slay the giant.  Instead he sees the titan as merely a bigger version of himself, struggling with many  of the same issues, primarily interested in his own security and prosperity.  David says to Goliath, "We have too many experiences in common from which we can both learn.  Like us, your current legislative majority is hanging on by a thread, one vote, 51-50 counting your vice-president.  At any time, that majority could collapse."
The litmus test for membership in the Israeli coalition?  Ensuring Netanyahu does not return to power.  All else is negotiable.  Which raises the question, "Why hasn't a multi-party alliance coalesced in the U.S. Congress to ensure that Trump and his message of faux populism laced with corruption are banished from the political landscape?"  This is where David (aka Israel) provides the model America could emulate.
I know, you are going to point out we are mired in a two party system.  That may true de jure, based on the labels on which most sitting members ran for election.  De facto, there are at least six parties.
Progressive Democrats (Warren, AOC)
Centrist Left Democrats (the majority of the current members of Congress)
Conservative Democrats (Manchin, Sinema)
Conservative Republicans (Cheney, Romney)
Insurrectionist Republicans (Hawley, Greene, Jordan, et. al.)
Independents (Sanders, King)
In Israel, no member of the new governing coalition is expected to change his/her party affiliation.  Their only obligation is to caucus with the majority on parliamentary votes of confidence.  Why couldn't the same be true in Congress?  Cheney and Romney need not switch parties.  But they should consider becoming part of a "democracy caucus" for which the unifying glue is unconditional support of expanded voting rights and accepting the will of the people.  Imagine if Romney or Cheney gave the the following speech on the floor of their respective chambers of Congress.
Today, I re-affirm my commitment to conservative Republican values and allegiance to the Constitution.  However, I fear both are threatened if the current leadership of my party continues to question the outcome of the 2020 presidential elections, pursues policies which restrict the ability of Americans to vote and promotes debunked conspiracy theories.  Therefore, until such time as my party rebuffs such attacks on democracy and the rule of law, I cannot support any return to power by Republican leadership.  On matters of leadership and legislative rules, I will caucus with the Democrats.
How farfetched is this scenario?  The seed has already been planted in the form of the "problem solvers caucus," a bi-partisan group of 56 House members who are "committed to finding common ground on many of the key issues facing the nation."  Their current agenda includes response to the pandemic, infrastructure, health care, immigration, criminal justice reform and gun/school safety.  Ironically, voting rights is not on the list.  However, the caucus did support several House rules changes to reduce gridlock authorized by Speaker Nancy Pelosi.
Mitch McConnell and Kevin McCarthy continue to support Trump and his Trumpettes in Congress because they believe it is their path to re-assume the leadership in 2022.  But what happens if the ten Republican representatives and seven GOP senators who voted their conscience when it came to Trump's second impeachment told the minority leadership, "We do not give a damn if a majority of the next Congress is elected as Republicans, you have already proven you cannot be trusted with the power of majority status.  Therefore, on the first day of the 118th Congress next January we will caucus with the Democrats."
Seventeen GOP members of Congress–Liz Cheney (WY), Tom Rice (SC), Dan Newhouse (WA), Adam Kinzinger (IL), Anthony Gonzalez (OH), Fred Upton (MI), James Beutler (WA), Peter Meijer (MI), John Katko (NY), David Valadao (CA), Richard Burr (NC), Bill Cassidy (LA), Susan Collins (ME), Lisa Murkowski (AK), Mitt Romney (UT), Ben Sasse (NE) and Pat Toomey (PA)–have the power to shut down the caravans that continue to make the unholy pilgrimage to Mar-a-Lago.  My bet is many of the cowards who fear Trump voters while denouncing the former guy behind closed doors, will quickly turn once they realize permanent minority status is the consequence of doing otherwise.  As members on both sides of the aisle have often declared, "Being the minority party in Congress is no fun."
For what it's worth.
Dr. ESP