On Saturday, I found an envelope with the following return address and postmark in our mailbox.

It raised the following questions.
Since Senator Rand Paul is from Kentucky, why would he be sending a letter from Fredericksburg, Virginia?
If it was official business, why would the envelope have a "non-profit" postmark instead of a congressional frank?
Inside were two pieces of correspondence, a survey and a self-addressed envelope to Senator Paul (see below).  Note the return address implied either Paul wanted me to believe the U.S. Capitol (following the January 6 insurrection) had moved to Loveland, Colorado for security reasons or NAGR headquarters was exact replica of capitol building.
The cover letter from Paul to "Dear American Patriot" explained he was sending this information on behalf of the National Association of Gun Rights (NAGR), and at the bottom, wanted me to know it was "NOT PRINTED OR MAILED AT TAXPAYER EXPENSE." (His emphasis.)  The accompanying letter from NAGR president Dudley Brown included six pages of the usual pro-gun arguments why I needed to stand up to national and global forces trying to deprive me of my constitution rights to own weapons of mass destruction and more ammunition than any civilian needs to possess.  Brown then asked me to complete the enclosed survey and (drum roll) "return it with your generous contribution of $100 TODAY."
There is one more relevant piece of information.  At the bottom of the survey is the following disclosure.  "The National Association of Gun Rights, Inc. is a non-profit, tax-exempt advocacy organization under section 501(c)(4) of the Internal Revenue Code.  Contributions or gifts to NAGR are not tax-deductible for IRS purposes.  Not paid for or mailed at taxpayer expense."
There is a lot to unpack here.  First as a 501(c)(4) non-profit, NAGR is similar to a chamber of commerce or trade association which is not automatically eligible for the non-profit bulk postal rate of 16.9 cents per piece, a 50 cent subsidy over the current rate of 55 cents you and I pay for a one-ounce letter.  The U.S. Postal Service is very specific about this.  Question 11 on the USPS Form 3624, "Application to Mail at Nonprofit USPS Marketing Mail Prices," specifically omits 501(c)(4) organizations as a choice to justify its eligibility for the non-profit rate.  (See below.)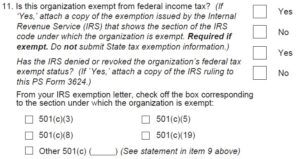 I am sure I was not at the top of the target list for this mailing; so there is no telling how many pieces of mail were involved.  For argument sake, let's pick a conservative number of 100,000.  In this case, NGRA would have saved $38,100.  If the mailing approaches one million pieces, the federal subsidy (something which is a thinly disguised equivalent of taxpayer expense) would rise to $381,000.  There are two reasons it is hard to determine the exact subsidy.  First, we do not know the size of the mailing.  Second, the envelope (pictured above) appears self canceled by the mailer and only has five cents worth of postage.  So it is impossible to tell whether NAGR paid the full 2021 bulk rate.
One could also argue Senator Paul only fronted this mailing because NGRA lobbies on an issue near and dear to his heart.  Or maybe it's personal.  After all, following the attack by a neighbor in which Paul suffered rib injuries, he might want to own an AR-15.  However, you would be wrong.  Michael Rothfeld, founder and CEO of Saber Communications, the company which manages NAGR's mail marketing has a long history with the Paul family.  He was a major fundraiser for the Senator's father Ron Paul's 2012 presidential run.  Of the $40.6 million in campaign donations Rothfeld helped generate for the failed attempt for the Republican nomination, $7.7 million (19 percent) went to Saber Communications.  Rothfeld provided similar services for Rand Paul's senate campaigns.
Based on past history, would anyone be surprised if Rothfeld and Saber Communications received a substantial share of the "$100 ask" accompanying the NAGR survey?  Especially since the surveys and donations will be returned to a Fredericksburg post office box.  Is it a coincidence Saber Communications, Inc., a company with no public record of its clients, consisting of Rothfeld and two employees, is located in (drum roll reprise) Fredericksberg while NAGR is headquartered in Colorado.
Finally, a sense of curiosity demands one inquire, "Why did Paul align with NAGR rather than the National Rifle Association (NRA) which has a significantly larger membership despite its current legal and financial troubles?"  That answer may lie in an April 9, 2015 article in the Washington Times titled, "Rand Paul shunned by NRA over National Association of Gun rights ties."  According to reporter Kelly Riddell, Paul did not receive the NRA's endorsement "…because of Mr. Paul's association with the National Association for Gun Rights (NAGR), a rival pro-gun rights umbrella group, that has angered other gun rights advocates, who accuse the group of misleading mailings and headline-stealing tactics."  Misleading mailings?  Headline-stealing tactics?  What better surrogate for Senator Paul than NAGR?
ENDNOTE:  At an August 21 meeting of the Senate government affairs committee, of which Paul is a member, he raised the possibility of cutting mail delivery from six to five days a week and reducing the postal service workforce.  He claimed these changes could reduce the agency's budget by $1.5 billion.  Senator, you know what else might help the USPS operating budget?  Not disguising questionable non-profit mailings by attaching your name to them.
For what it's worth.
Dr. ESP