With appreciation to Aaron Sorkin, screen writer, and Rob Reiner, director, of A Few Good Men on which this parody is based.
Yesterday, Castle Rock Productions announced it has approached Rob Reiner to direct a sequel to his 1992 tour de force starring Tom Cruise, Demi Moore and Jack Nicholson.  Below is an excerpt from the working script.
A  FEW BAD MEN/Scene 45
[The United States Senate.  Chief Justice John Roberts gavels the session in order.  Donald Trump is sworn in as Adam Schiff addresses the witness.]
Schiff:  Take your seat Mr. President.
Trump:  What shall we discuss?  My golf game?
Schiff:  The meeting with your National Security Advisor in August 2019 where you told John Bolton you wanted to continue withholding military aid to Ukraine until they announced the investigations of Joe and Hunter Biden and Ukraine interference in the 2016 election.
Trump:  But that meeting never existed.
Schiff:  We believe it did, sir.  And you told Ambassador Sondland there was no quid pro quo, that you did not want the aid withheld.  He was clear what you wanted?
Trump: Crystal.
Schiff:  Could he have ignored the order?
Trump: Ignored the order?
Schiff: Or forgot it?
Trump: No!
Schiff:  When Sondland talked to Rudy Guiliani, any chance Rudy ignored him?
Trump:  Have you ever sat at the Resolute Desk, son?  Ever been in the White House situation room?  Ever had the fate of the free world in your hands?  People follow orders, son.  Otherwise they find their heads on a pike.  It's that simple.  Are we clear?  ARE WE CLEAR?
Schiff: Crystal.  One last question before I call Ambassador Bolton.  If you ordered Ukraine's military aid not be withheld, and your orders are always followed, then why was the aid withheld?  Why would it be necessary to withhold aid which had been appropriated by a bi-partisan majority of Congress and you signed into law?
Trump:  Because I was concerned about rampant corruption in Ukraine and their interference on behalf of Hillary Clinton in the 2016 election.
Schiff:  But you said you did not order the aid to be withheld?
Trump:  I know what I said!
Schiff: Then why was the aid withheld?
Trump:  Men can do things on their own.
Schiff:  But your men never do.  Your men obey orders, right?
Trump:  You snotty little bastard.  I request a recess.
Roberts: The court will wait for an answer.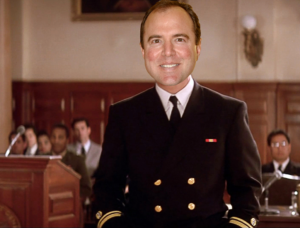 Schiff:  If acting chief of staff Mick Mulvaney did not order the aid be withheld, why was it withheld?  Mulvaney sent an email to OMB to halt the funding because you told him to.  And when your "drug deal" went bad, you told Sondland there wasn't one.  And you locked down the transcript of the July 25th phone call to hide the direct evidence.  Mr. President, did you order withholding aid from Ukraine pending announcement of the two investigations by President Zelenskyy?
Roberts:  You don't have to answer that.
Trump:  You want answers?  
Schiff:  I want the truth.
Trump:  You can't handle the truth.  Son, I live in a bizarro world with walls that must be guarded.  Article II of the Constitution gives me more power than you can fathom.  You weep for Ukraine and curse my administration.  And my existence, while grotesque to you, depends on those walls.  We use words like lock her up, send them back home and covfefe.  They are the backbone of my support.  You use them as a punchline.  I haven't the time or inclination to explain myself.
Schiff:  Did you order the withholding of military assistance to Ukraine.
Trump.  You're goddamn right I did!  (Evangelicals gasp)
Schiff:  I suggest the witness be dismissed and we immediately move to a vote on the articles of impeachment.
Roberts:  The witness is excused.
Trump:  What the hell is this?  I did my job, I'd do it again.
Schiff:  We know, sir.  We know.
Trump:  I'm going back to the White House.
Roberts:  You're not going anywhere.  Sergeant-at-arms, escort the president out of the chamber.  You've the right to remain silent.  (Everyone laughs.)
Trump:  I'm being charged with a crime?  This is funny, that's what this is!  I'm gonna rip the eyes out of your head and piss on your skull!  You f***ing people have no idea how to win an election.  Sweet dreams, son.
Schiff:  Don't call me son.  I'm a prosecutor and a member of the House of Representatives.  And you're under arrest, you son of a bitch.
Roberts:  The witness is excused.
PRODUCTION UPDATE:
Rob Reiner, due to previous commitments chose to pass on the opportunity to direct this film.  Other considerations for director include Quentin Tarantino who has requested the title be changed to Once Upon a Time…in Mar-A-Lago or Baz Luhrmann who has proposed a musical version titled Moola Ruse.
For What It's Worth
Dr. ESP